SVEEP Awareness Programme for SSR of Photo Electoral Roll held at GDC Drass
KARGIL, NOVEMBER 02, 2021: A SVEEP Awareness Programme for Special Summary Revision (SSR) of Photo Electoral Roll with reference to 01-01-2022 as the qualifying date was organized by the District SVEEP Team Kargil at Government Degree College (GDC) Drass here today.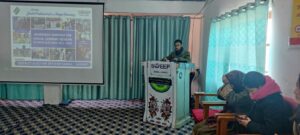 Sub Divisional Magistrate (SDM)/AERO Drass Anwar Hussain was the chief guest on the occasion.
Young prospective voters/students of GDC and Government Higher Secondary School (HSS) Drass were the main participants, besides religious and political representatives, Chairperson BDC Drass, Sarpanchs, Panchs, BLOs and Supervisors  attended the awareness programme.
SDM/AERO Drass Anwar Hussain in his address while giving details regarding SSR urged the participants to disseminate the information to others. He also stressed all participants for participating in the SSR process, and further appreciated the District SVEEP Team for organizing such fruitful awareness programme in Drass area.
District Nodal Officer SVEEP Ghulam Rasool Lal started the awareness program with the welcome address wherein he enlightened the participants about the role of SVEEP in the district to sensitize the general masses about the voting process and the importance of voting.
In Charge Principal GDC Drass Haider Ali Askary who also spoke on the occasion stressed upon the importance of such awareness campaigns for the students and the general public. He also expressed gratitude to the District SVEEP Team for organizing such valuable campaigns and also undelined the need to organise similar programs for students in the near future.
Meanwhile, a general awareness on the importance of voting in a democratic system was given by Principal HSS Drass Sajjad Hussain and Assistant Professor Political Science Jigmet Sangyas.
Anwar Hussain Core Member SVEEP Team Kargil provided necessary information on ELCs and importance of ELCs in schools to the students.
Bashir Hussain Core member SVEEP Team Kargil delivered the vote of thanks at the end.
Refreshments were also served among the students and participants by the members of the District SVEEP Team on the occasion.