EC Tashi chairs meeting regarding Single Use Plastic in Kargil
Kargil, September 20, 2022:
Executive Councilor for RDD, Tourism and Zanskar Affairs, Er Punchok Tashi today chaired a meeting at Council Secretariat regarding Single Use Plastic in tourist areas of Kargil district initiated by Germany-based NGO, Human Family Nature Foundation (HFNF).
Executive Councilor, PWD, R&B, Mubarak Shah Naqvi, Councilor Poyen Constituency, Mohammad Amin, Councilor Baroo, Minjee, Sheikh Ghulam Mehdi, Co-Founder and CEO HFNF, Gaurang Bhatt, and other officials attended the meeting. However, Christine Hoffmann, Founder & CEO HFNF, attended the meeting virtually.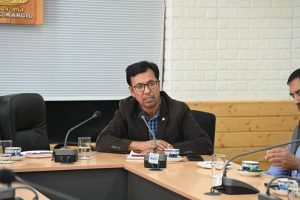 EC Tashi on behalf of LAHDC, Kargil welcomed the guests and dignitaries and extended all possible help to work in Kargil for the elimination of plastic use.
Tashi said that plastic use is a major threat all over the world that affects the environment. He said that are trying to reduce the usage of plastic and replace it with organic material.
The EC extended good wishes and hoped for future meetings and discussions related to these important issues.
Christine Hoffman presented the merits of organic materials and she stressed on the usage of carry bags, water bottles and water purifiers. Gaurang Bhatt discussed the importance of water purifiers and water bottles in daily life and assured to provide the same at low cost.