Leh, May 20: The Chairman/CEC, LAHDC Leh, Adv. Tashi Gyalson had a meeting with the Principal Secretary, School Education Department, UT of J&K, Bishwajit Kumar Singh at the Council Secretariat, Leh today. Dy Chairman/EC Education, Tsering Angchuk, and Director School Education Ladakh, Dr. Safdar Ali was also present during the meeting.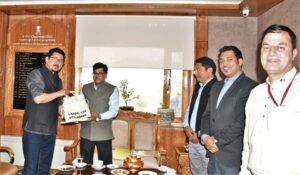 CEC Gyalson discussed various pertinent issues concerning the career progression cases of the teaching fraternity of School Education Department Ladakh which have been pending with the UT of J&K for a long period. He further sought assistance from the Principal Secretary to resolve the pending apportionment of the employees between UT Ladakh and UT J&K.
Taking note of the concerns raised during the meeting, the Principal Secretary has assured the Chairman and the Dy Chairman in resolving all the issues within a stipulated period.