Science Exhibition Fair Held at Mutahhary Public High School Saliskote,Kargil
Kargil, 12 September 2022:-To inculcate scientific temper, innovation and creativity among students,the Mutahhary Public High School, Saliskote(MPHS) on Monday organised science exhibition fair.
Students showed their creativity in model makings such as rainwater harvesting, biogas, pollution.
Besides, it also allowed the students to work together in groups and learn from each other and share their innovative ideas among each other.
This also brought out many innovative results.
Students were very excited and in the feedback also mentioned that they got to learn a lot from this Science Exhibition and also explored many new ideas on which they worked together as a team.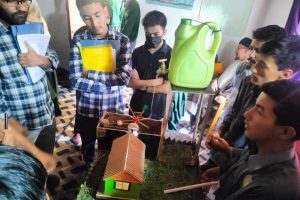 Dr Akbar Ali Professor , University of Ladakh,Nissar Hussain lecturer, Science Teacher also visited science exhibition as a jury member.
They further appreciated to all participants of Science Exhibition for there great performance.
Later prizes were distributed to all participants to encourage for there outstanding work by the hands of Chairman Board of School Management.
During the science exhibition Gen.Secretary, Principal,vice Principal, MPHS Saliskot and other dignitaries were also present.
MPHS Saliskote also felicitated to Nawaz Ali, R/o Trespone, who is a NEET Topper of 2022 in UT Ladakh and an alumnus of MPHS SALISKOTE, and brought laurels to the School.
The Principal ,Managing Board members of MPHS Saliskote congratulated to Nawaz Ali for his well deserved success and Science Teachers with coordination of other staff members of MPHS Saliskote for successfully organising the Science Exhibition, highlighting it's importance for students.