Team Ladakh and FC1 Kashmir play friendly match as prelude to UT Foundation Day celebrations 2022
1500m race for men & 1.4 × 100m mixed relay race also held
Leh, October 30: As a prelude to the UT foundation day celebrations on 31st October 2022, the Department of Youth Services and Sports, Ladakh organized a friendly football match today between Team Ladakh and FC1 Kashmir at Open Stadium Spituk. Advisor to HLG, Ladakh, Umang Narula inaugurated the football match.
Both teams showed astounding performances and impressed the audience. FC1 Kashmir won the match 1-0 after a hard-fought display from both sides.
CEC, LAHDC, Tashi Gyalson attended the event along with other dignitaries viz Principal Secretary, Pawan Kotwal; Commissioner/ Secretary, A K Sahu; Secretary Sports, Ravinder Kumar; DC, Leh, Shrikant Suse; Joint Director, DYSS, Ladakh, Moses Kunzang, among others.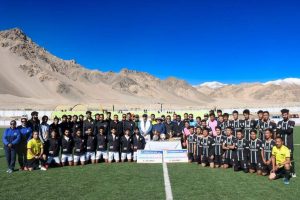 A 1500m race for men and a 1.4 × 100m mixed relay race were also held today at the Open Stadium, Spituk wherein for the 1500m race for men, Zehran Aaways won first place; Nawang Tsering, second place, and Jigmet Namgial won the third place. Similarly, for the 1.4 × 100m mixed relay race, Tashi Ladol (Leh Runners) won first place; Mudasir Ahmed (Chuchot Shamma) second place, and R K Tashi (Cosmos) won third place, respectively.
The event concluded with CEC, LAHDC, Tashi Gyalson awarding the prize and medals to winners and runners-up of the football match and races.