Leh, April 13: Second edition of the week-long 'Apricot Blossom Festival' began in the Leh district today. The inaugural function at Dhomkhar Dho village was organised by the Department of Tourism, Leh in association with Kunfan Junu Tsogspa, Dhomkhar.
The Chairman/CEC, LAHDC Leh, Adv. Tashi Gyalson inaugurated the week-long Apricot Blossom festival in the presence of Member of Parliament (MP) Ladakh, Jamyang Tsering Namgyal and Councillor Lamayuru, Morup Dorjey.
Addressing the inaugural ceremony, CEC Tashi Gyalson stressed the need to work on promoting sustainable tourism in Ladakh. He added that the Hill Council's utmost priority is to fulfil the basic developmental requirements and promote tourism in the far-flung areas of the district. He urged the tourism stakeholders of Leh to collectively contribute to strengthening the sector by aligning its targets/goals with the fragile ecosystem of the region.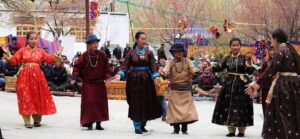 MP Ladakh, Jamyang Tsering Namgyal highlighted the steps taken by the current government in reviving and promoting tourism in the lower Ladakh (sham) region with such initiatives over the last few years. He added that community involvement must be strengthened in the developmental progress of the region.
Councillor Lamayuru, Tourist Officer, Leh and the President, Kunfan Junu Tsogspa also addressed the gathering.
Enthralling cultural performances with an array of traditional food and a display of varieties of local products were the major attraction during the inaugural ceremony of the Apricot Blossom festival at Dhomkhar Dho.
Nominated Councillor, Ven Konchok Tsepel; BDC Chairperson Skurbuchan, BDC Chairperson Khaltse, District HoDs, Sub-divisional officers led by SDM Khaltse, officials of Tourism Department Leh, representatives from local tourism stakeholders, village representatives led by Sarpanches, Nambardars, representatives from local SHGs and many tourists attended the inaugural ceremony.
Ladakh Autonomous Hill Development Council Leh
District Administration, Leh